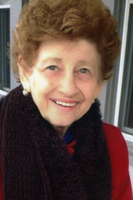 Rose Trivelas
Rose Trivelas, 1932 - 2018
Rose Trivelas, age 85, passed away peacefully on February 7, 2018. She was born on March 16, 1932 in Staten Island, NY to Ralph and Antointette DeMartinis-Miano. She married her soul mate, George P. Trivelas on June 10, 1956. George preceded her in death in 2010. They shared 54 fairy-tale years together and were a shining example of what a husband and wife and mother and father should be. Rose was the sunshine in George's life and George was her forever hero. Rose was an avid church-goer and lived her life according to Ephesians :32 - "And be kind and compassionate to one another, forgiving one another, just as God forgave you". She had a kind, loving and gentle heart and touched everyone that came across her path. Her smile was contagious and sincere and she loved to laugh. She was an extraordinary and warm person that people always gravitated to.
Rose graduated from Port Richmond HS in 1950 and was referred to as "Peanuts" by her classmates. Her yearbook description says it all..."Pint sized, but gallons of personality". She was a member of the Children of Mary in St. Benedicta, played softball, and was on the bowling team. She was a Den Mother for the Cub Scouts and also enjoyed sewing, gardening, cooking and baking.
She was an amazing mother to her 3 children, Kathryn (husband, Viktor), and twin sons, Peter and George, Jr. (George, Jr. precedes her in death in 1995). Rose is also survived by her brother, Rudolph (Rudy) Miano, 5 grandchildren, Viktoria (husband Joseph), Kristin (husband David), Christian, Zachary, Gabriella and a great-grandson, Brayden George.
Rose was part of an incredible bond of friendship, simply called "The Club". This group consisted of a few girlfriends from grammer school that started getting together formally as young women that shared a common bond. There were some that have come and gone, but the core were her best friends forever, Elena (Enna) Scamardella, Virginia Yaccarino, Marie Socci and deceased members, Josephine Jastremski and Tessie DiSilvio. These ladies met every other week for more than 50 years and their unique fellowship was a true testament of friendship, strength and faith.
In lieu of flowers, donations to the Alzheimer's Association would be appreciated.
Funeral from the Matthew Funeral Home, Inc., 2508 Victory Boulevard, Staten Island, NY on Monday, February 12th departing at 11:00 AM. A Mass of Christian Burial will be celebrated at Holy Family R.C. Church at 11:30 AM. Interment to follow at Silver Mount Cemetery. Family and friends are invited to visit on Sunday, February 11th from 2-4 PM and 7-9 PM.