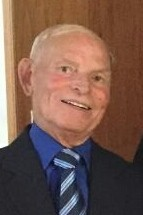 Obituary of Salvatore Micciulla
Salvatore E. Micciulla, age 76, of Annadale, passed away peacefully on April 11, 2018, at Staten Island University Hospital North, after a battle with Lung Cancer. He was the beloved husband of JoAnne Micciulla (nee Puleo); loving father of Bruce and his wife, Esperanza, Lisa Micciulla-Roman, Daniel, and Fr. Angelo Joseph Micciulla. He was one of 14 siblings, of whom he is survived by five of them. Salvatore is also survived by 5 grandchildren, 1 great-granddaughter, 2 step grandchildren and 3 step great-grandchildren. Additionally, he is survived by many nieces and nephews.
Mr. Micciulla was born in Manhattan in 1942 and relocated to Staten Island in May of 1978. He was an alumnus of the N.Y. School of Printing. For fifty years he was employed as a Laborer Foreman with the Mason Tenders Union #79, retiring in December of 1998.
Salvatore was a member of the Stolzenthaler Council (#1675) of the Knights of Columbus, holding title of a Fourth Degree Knight with the Governor Dongan Assembly.
He also served as a Color Corps Member of the Knights and volunteered proudly for Knights fundraising activities. During his tenure with the Knights, Sal was honored as a Knight of the Month and also Knight of the Year. He attended mass at Holy Family R.C. Church.
Funeral from the Matthew Funeral Home, Inc., on Tuesday, departing at 9:30 am. A Mass of Christian Burial will be celebrated at Holy Family R.C. Church at 10 am. Interment will follow at Resurrection Cemetery. Family and friends are invited to visit on Monday from 2 to 4 and 7 to 9 pm.