Caring At Every Step
Thursday, August 3, 2017
Caring At Every Step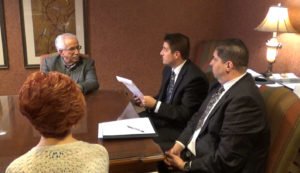 When you suffer the loss of a loved one, it can be difficult to put funeral arrangements together quickly. Sometimes, you have to run back and forth between the funeral home and all of the other errands you need to do. Floral arrangements, the possibility of cremation, the monument, religious services, and more need to be taken care of. But you should be taking the time to remember your family member, not running around preparing everything yourself.
At Matthew Funeral Home and Cremation Services, Inc.; we strive to lend a hand in all aspects of the mourning process. Our family has been working with families like yours for almost 50 years, and providing the necessary assistance, every step of the way. When planning a funeral for a loved one, you don't have to do it alone. Our caring staff will help you in all matters of the funeral process; from the casket, to the flowers, to the video tribute, we do our best to care for you and your family in your time of need.
Our in-house gift shop provides families with direct access to memorialization options for the service of their loved one. Our family will help you plan out and pick the best options to suit your needs, and your budget. We know that the loss of a close family member can be stressful. Our family is here to help ease the process and give you the time to honor your loved one properly.
For almost 50 years, Matthew Funeral Home has been serving the Staten Island community. We can help with almost every aspect of your loved one's memorial service. Our family is here to serve yours.
Previous Posts
Memories of lost loved ones can play a major part in our grief. If you see an old photo or an object that reminds you of a memory, you may be flooded with emotions. Sensory memories are those trigg...