Military Funeral Honors
Monday, August 7, 2017
Military Funeral Honors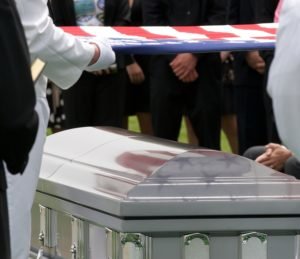 When a loved one who is an active member of the armed services or a veteran passes away, it is important for them to be rightfully honored for their service to our country. The tragic loss of a loved one can be so overwhelming. It can be hard on the family to make sure that they are receiving all the help they can get from the government.
Active military and honorably discharged veterans are entitled to a grave in a Veteran's National Cemetery for themselves, their spouse and dependent children. In addition to the grave, they are also entitled to a headstone and/or marker with engraving, a concrete government grave liner, free death certificate(s) (number depending on state where death occurred), flag, and a military honor guard to be present at the cemetery, church or funeral home. Veterans receiving disability pensions are entitled to additional burial benefits.
It is extremely important to have the deceased's honorable discharge documentation, or DD214 Form, available. At the time of the funeral arrangement conference, Matthew Funeral Home will make the appropriate arrangements with the Veteran's Administration for the entitled benefits. However, the discharge papers must be presented to the appropriate government organization before they will schedule a burial, honor guard, etc.
For almost 50 years, Matthew Funeral Home has been serving the Staten Island community. We can help with almost every aspect of your loved one's memorial service. Our family is here to serve yours.
Previous Posts
When planning out how you will divide your estate amongst your heirs, many people often forget about their collections. Whether you collect fine art, model figures, comic books, or trading cards; h...