Should I Put My Funeral Plans in My Will?
Tuesday, August 8, 2017
Should I Put My Funeral Plans in My Will?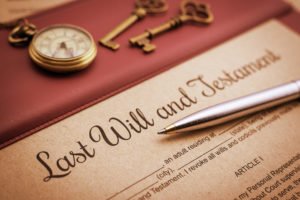 It is a common misconception that you should put your funeral wishes in your Will. In most cases, the Will is read after all is said and done with the funeral. If you want your funerary wishes to be honored, it is best to work with your preferred funeral home in order to make all of the arrangements with professional guidance. When your time comes, your family will only need to make a call, and everything will be made ready.
We plan out so much in our lives; birthdays, careers, weddings, having children, vacations, and retirement, to name a few. Planning for your funeral is important because it can help pin down exactly how you want to be taken care of in the end.
Family members will often be emotional during the planning of a funeral, and may not make the choices you would want. Your family may have a different view on what your funeral should entail as opposed to what you actually want. Putting together a plan with a professional funeral director will allow you to establish your requests and ensure that they are catered to.
Families often miss out on insurance opportunities or benefits because they are not made aware of them before the funeral has passed. By planning ahead, we can help you map out the distinct benefits that your family may be entitled to help pay for your funerary costs.
When you plan ahead, you can start paying forward. Planning ahead affords you and your family the opportunity to set up a payment schedule. People that are saving for the future are usually thinking about retirement, and not about funeral expenses. With a funeral trust account, you can you can save money little by little in order to ease the costs of the services.
Planning ahead allows you to make informed decisions for yourself. You get to decide if you want to be cremated or buried. If you wish to be buried, you can decide on the casket, the burial grounds, and more. The choices you have during cremation include details such as the urn, scattering, and burial; among others.
Don't wait to start planning for a funeral. You shouldn't wait to be retired or ill to start planning for your future. Your funeral should be important to you. Give it the planning and thought it deserves. Enjoy life with the peace of mind that you won't have to worry about leaving your family with the burden of planning and paying for your funeral.
For almost 50 years, Matthew Funeral Home has been serving the Staten Island community. We can help with almost every aspect of your loved one's memorial service. Our family is here to serve yours.
Previous Posts
Pre-planning your funeral may seem strange, but it is a practice that can help you and your family in the future. People often see pre-planning a funeral as morbid, similar to how many people feel ...